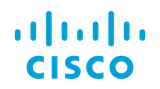 Cisco Systems
Europe
The project
Design and run 3 x 2-day strategic planning sessions in Europe and the USA for 100 senior executives.
The objective
Accelerate the alignment of corporate operations and explore methods for increasing customer satisfaction.
"We quickly identified the issues and appropriate solutions without any of the unnecessary debate and lobbying that typically dilutes these types of decisions.
The true success was the stronger trust and understanding the teams developed for each other as a result of working with Q3global's process.
We created a solid platform for our strategy which we can focus and execute as a team."
Vice President
Cisco Advanced Services, Europe